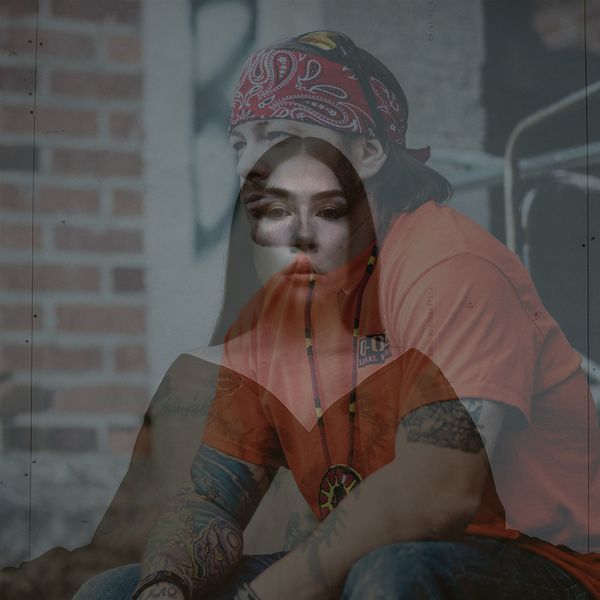 Suoni Per Il Popolo Interviews: Q052 & Anachnid

We asked Jack Solar to speak to Anachnid and Q052 ahead of their upcoming Suoni Per Il Popolo show at Sala Rossa on June 21st.

Anachnid, aka Anna-Khesic Kway Harper, aka Kiki Harper, is a multidisciplinary Oji-Cree artist based in Montreal. Strong and enigmatic, her totem animal is the spider.

Quentin Condo is a Mi'kmaq hip hop artist from Gesgapegiag who uses his music platform to raise awareness about Indigenous issues.

Okay, let's start off easy. Can you tell me about the names you've chosen for your projects?

Quentin: The name of my first EP is called Lateral Violence and I chose that name because of the problems that I face with my Chief and Council in Gesgapegiag. The elected officials in my community are bullies and most community members are afraid to upset them because they fear the consequences of not getting jobs or services. I'm not afraid of them and instead of cowering away, I address the issues and expose them. My album " Rez Life" is a continuation of that mood but its content addresses issues on every level of government and industry. I don't hold any punches.

When did each of you start making music? What drew you to that medium and what keeps you making it?

Kiki: I started freestyling on top of tribal house tracks at l'Escalier on Indigenous nights with DJ Kiko, VJ Yecto and Juan Enchinga. I was also really intrigued with experimental music, particularly when it's merged between digital samples and organic sounds, like the sound of rain or wind blowing through the leaves in the forest. You can hear this in all my tracks where Emmanual Alias records samples of me where I'm playing the flute or imitating animal noises (bees buzzing, bears growling).

Quentin: I use music as a platform to fight a system that was designed to systemically assimilate Indigenous People. I've always fought against the Federal and Provincial governments whether it be by blocking roads, organizing protests or debating at government levels when I was an elected member of Council in Gesgapegiag. I'm a Warrior and now I'm using Hip Hop as my weapon.

Kiki, you're also a visual artist. What kinds of visual art do you make?

Kiki: I like to do minimal art with Gold, Silver and Copper leaves on a big canvas that replicate nature or indigenous symbols. I also have done watercolour and sculpture. One of my paintings is currently in Rome!

Is there a narrative you're weaving through all these mediums?

Kiki: Spiders, tricksters and nature. The balance between darkness and light. Embracing both is what makes us complete and human. I show this in my lyrics as well.

Your song Windigo blew me away. That line, "you can never have my soul, so fuck you windigo"— can you tell us a little about what that means or the inspiration behind it?

Kiki: Windigo is a hungry greedy entity. It is never enough for him. There are stories out there that are scary and have heard of in my community. I was told if you look at him in the eyes you're never quite the same. Windigo for me is a song of acknowledging this darkness that can also inhibit us, but this song for me also expels and deflects that energy to preserve everyones light through personal anger and sense of justice. I also channel Nunabush, a trickster spirit who has a lot of fun singing this song. He also has darkness and light and teaches us lessons, but he is not sick like Windigo.

What sorts of things or experiences inspire your lyrics?

Kiki: Emotions, the spirit world, dreams, pain and letting go of that pain. You can see in my performances my evolution from sadness to happiness, adapting to technology and urban culture but also keeping my essence.

Quentin, last time I ran into you, you were about to film a music video. Can you tell us a little about that project?

Quentin: We just filmed a music video in Kahnawake for the collab track with Will E Skandalz about 2 weeks ago and that drops on June 21!!! It's a hard political track called "Ransom Note." Like I said...it's a hard political song! That should be expected when you put a Mi'kmaq and Mohawk artist on the same track!!!

You've both been in the studio a bunch lately. Can we expect new albums soon?

Kiki: Yes my album launch will be at MAI Center on Jeanne Mance in February 2020.

Quentin: I've been really busy working on a brand new album with my producer Emmanuel Alias who is also my drummer in my band. Jean-Baptiste Beltra who is the keyboardist in my band has had a hand in this production as well as my son Aidan Condo who is my guitarist. Let's not forget my bass player Vincent Benezet! This album is got a bit more groove to it, kinda jazzy but still bites like a wasp! You can expect to hear the first single this summer before the full album drops in November. Once again, I will not be holding any punches with this album. Cultural appropriation, lateral violence, environmental protection, MMIW and territory are all important topics and I will be bringing attention to the issues.

Are there other artists out there you're excited about?

Kiki: SNOTTY NOSE REZ KIDS AND Q052!!

What's funny is I admired Snotty Nose Rez Kids and sent them my track Windigo last year. Now I'm performing and opening for them. I feel very blessed and see that I am guided by my ancestors, especially when it's on Indigenous People's Day, June 21st. 

And what about collaborations— is there anyone you're itching to work with?

Quentin: I've been busy with several collaborations as well with other Indigenous artists such as Will E Skandalz, Paul Obamsawin, Jake Mallette and I'll possibly be adding to that list very soon. I'm really hoping to get a collaboration piece in with the wonderful Angela Amarualik!!! She's an Inuk artist and she's just great and of course it would be a dream come true to create a track with Buffy Saint-Marie!!! 

Anachnid and Q052 open up for Snotty Nose Rez Kids at Sala Rossa on June 21st 2019!