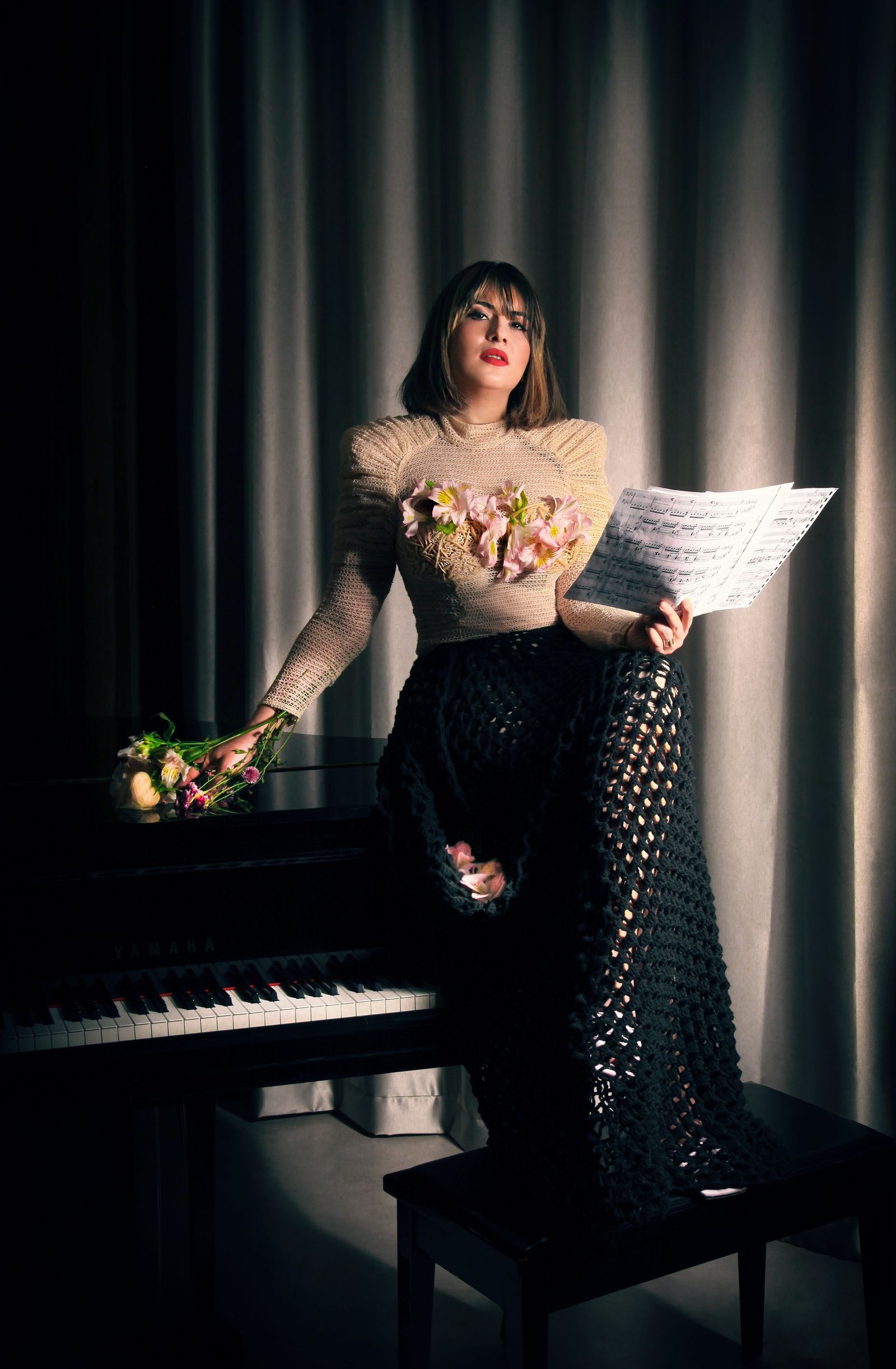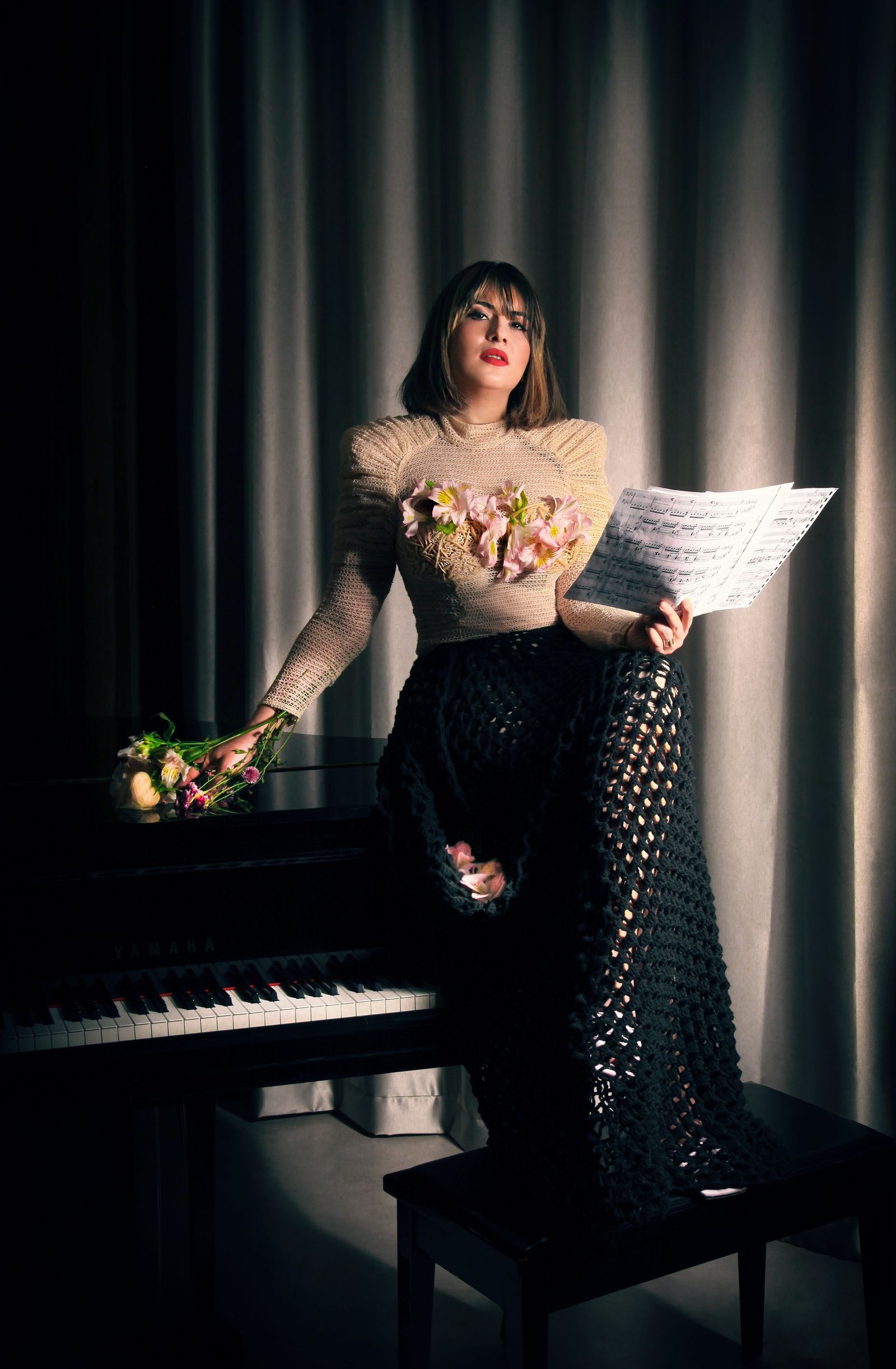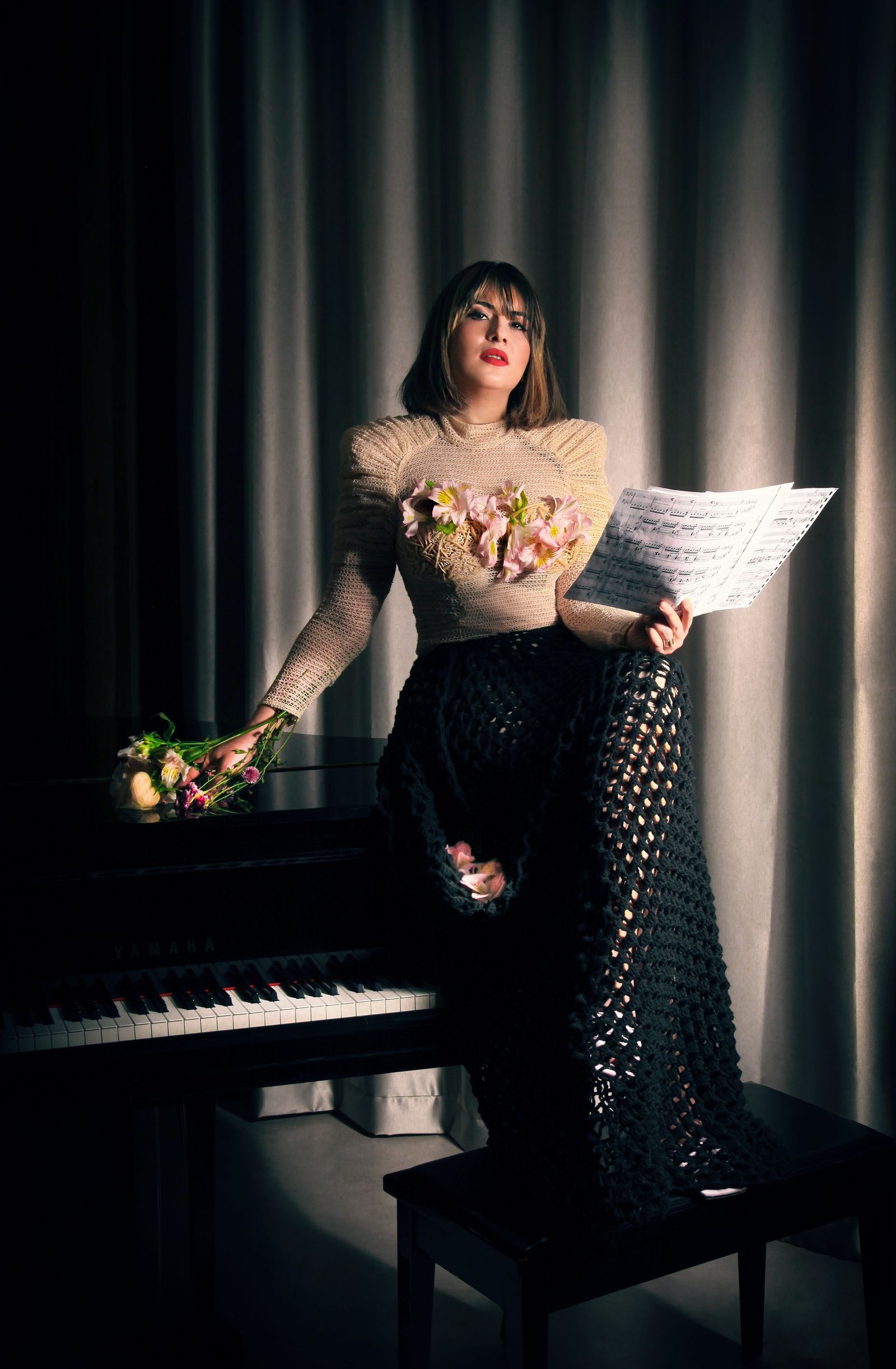 Deterritorializing the realm of new music - Anoush Moazzeni
Anoush Moazzeni, with the support of the Canadian Music Centre and IFCA (Iranian Female Composers Association), will be performing one-minute pieces (existing/new works, or proposals) composed by West Asian Composers. The theme of this call is: "Deterritorializing the realm of new music".
Pieces will feature piano & objects + electronics and/or spoken word, poems, and voice.
Artistic statement:
Contemporary composers and performers at the intersection of race, ethnicity, gender and sexuality have always been underrepresented in new music, and now more than ever, their voices are being shut out because of the effects of this pandemic. As a concert pianist, interdisciplinary composer, artist-researcher, educator, activist and intersectional feminist, I've been thinking of models and forms of solidarity, care and support in this time of crisis that are nourishing our artistic community, and those marginalized voices that have been rendered silent in the pandemic.
This all has led me to show my support to my musical community by issuing a call for scores and proposals with the support of the Canadian Music Centre and IFCA (Iranian Female Composers Association), for west Asian composers including those in the diaspora in September 2020. The theme of this call was: "Deterritorializing the realm of new music". Selected pieces feature piano & objects + electronics and/or spoken word, poems, and voice.
Contemporary new music aims to liberate formalities and standards in music making. My aim is to produce a program that contributes to conditions of recognition and representation in the realm of new music and to raise awareness of West Asian cultures and music and, by extension, to explore issues and ideas shaping the identities and experiences of people from the region. We have called on artists to deterritoralize from the dominant narratives in the new music practice and to open up to new possibilities for music making. I have selected works from artists who bring diverse perspectives on sociality, subjectivity and aesthetics through their music, and chose pieces that are challenging, experimental and engaged in critical discussions that offer new perspectives on contemporary West Asian realities.
This project uses the category of West Asia as an alternative to that of the Middle East—a geographic category whose genealogy in the post-imperial politics of the 20th century is now widely recognized. The category of West Asia is helpful because it moves away from the exceptionalism that is inherent in the notion of "the Middle East." West Asia highlights also the need to better understand the connections, ties, and circulations between this context and other parts of Asia. From the perspective of influential opinion makers in the region, the use of the category "West Asia" corrects the Western-centric view of geography and replaces it with a vision that has more traction in the region itself (Marsden, M., & Mostowlansky, T., 2019).

This project is thus a political project in its wider sense. Its goal is firstly to support the artistic community and specifically the work of composers of colour (and those who identify as women and LGBTQI+); secondly to recognize the discriminatory distinction between the east/west that has propagated throughout the history by the western cosmology, also to recognize the negative impacts of the use of the term Middle East in controlling power-relations in the region; and thirdly, to invite artists and composers to deterritorialize the realm of the new music from the current dominant narratives and aesthetics (the continuum of the western classical music).


I borrow the term "deterritorialization" from Deleuze and Guattari, two of the most influential post-structuralist philosophers of the 20th century. Deterritorialization for them signifies a process of constant movement that avoids fixed states or the stasis of being and the sedimentation of identity. Claire Colebrook explains:

"The idea of deterritorialization, which runs throughout Deleuze and Guattari's work, is directly related to the thought of the machine. Because a machine has no subjectivity or organizing center it is nothing more than the connections and productions it makes; it is what it does. It therefore has no home or ground; it is a constant process of deterritorialization, or becoming other than itself." (2002, p. 56)

I therefore, see an immense possibility of deterritorialization work in terms of soundscapes and musical events in Contemporary Creative Music, There is a vast possibility of playing with phenomenology of sounds such as sound sources, materiality, social and cultural aspects of sounds and shifting modes of listening.

*Acknowledgment: We acknowledge the support of the Canada Council for the Arts.
Anoush Moazzeni will perform the following works in this performance:
Piece: My Joint Self
Composer: Anahita Ghasemi Nasab
Country: Germany (Iranian in Diaspora)
Instrumentation: Piano, Objects and Audio Tape
More About the Piece: Piano is a sacred instrument in Armenia. If you are a talented musician, your piano skills should show for it. If you are a composer, you compose with a piece of paper, a pen and your piano. You compose what you can play on the piano. In 2015, I was a third year student of composition at Yerevan State Conservatory after Komitas. The summer that year I applied for a composition workshop/competition held by Swiss based Armenian composer Aram Hovhanissyan. The task was to compose three short pieces for piano, based on three abstract paintings. The teaching methods were still very much Soviet style and electronic and noise music was still something "Europeans" do. And for sure it was not for women. I was the only (and apparently the first) woman applying for this annual event, going against three male composers who had already finished their Master's. The art and music scene was still very male dominated. Male teachers would favor the male students over females and believed that being a composer requires wearing a Man Suite. So instead of trying to prove my composition skills through my piano skills- as the other contestants would do and actually did! - I locked myself in a room with a piano for days, having nothing but all kinds of objects, from kitchen tools to dust and sand. Until I heard it: The noise of a vodka shot glass on the strings. A symbol of male domination plus a Muslim woman who does not abide to patriarchic rules. She doesn't care about the traditional piano skills. She cares about the sounds, and how even a minimal set of tones, used creatively, can be highly expressive. For sure I didn't win! I was tagged as "stupid" right after that performance. But I was also asked to keep it radical and go on.
Piece: Memory
Composer: Ali Balighi
Country: Iran
Instrumentation: Piano and Fixed Media
More About the Piece:
"No one will introduce me to the sunlight
Or escort me
To the sparrows' gathering.
Commit flight to memory,
For the bird is mortal."
Poet: Forough Farrokhzad
Piece: Your Concept…
Composer: Soheil Shirangi
Country: Iran
Instrumentation: Piano, Electronics and Spoken Words
Piece: Shamseh
Composer: Zerone Duo
Country: Iran
Instrumentation: Piano, Live Electronics and Spoken Word
More About the Piece: By drawing simple geometric shapes and mixing them, different patterns are created, which have many attractions and concepts. Shamseh is a method of drawing the sun, widely applied in Iranian-Islamic arts, especially Islamic geometric arts. An octagonal Shamseh, one of the most widely used design types, is the most harmonious combination of two cosmic shapes, circle and square. The circle is a symbol of time, which is composed of successive and unchanging moments repeated successively. Moreover, the circle is a symbol of the cosmic sky. The square is a symbol of the material world and experience. The square is the earth and the circle is the symbol of the sky. The square is the passive principle, while the circle is the active principle; it is dark in light, stillness and concentration in the face of motion and lightness. An octagon connects these two cosmic shapes, as a symbol of the earth and the other the symbol of the sky. The octagonal interface (dome stem) is used for connecting a square building to a circular dome. To draw an octagonal Shamseh, two squares could be enclosed into circles in a few simple drawing steps. The squares are overlapping squares, the diameters of which have an angle of 45 degrees with each other. The intersection of these two squares creates the octagonal Shamseh, the octagons of which point to eight spatial directions.
"Shamseh" is an interdisciplinary composition for piano, live electronics and spoken words. The foundation of this piece is the geometric drawing of the Shamseh to create sound. Since there is an infinite dot on each string inside the piano that could be considered as the center of the initial circle of drawing the Shamseh, and it will have a different sound from each point, the word "if" is used. repetition and processing of the "if" word is the foundation of live electronic part.
Piece: Speak
Composer: Atefeh Einali
Country: United Kingdom (Iranian Diaspora)
Instrumentation: Piano, Scissors and Spoken Words
More About the Piece: "Speak" is for a left hand in Piano, a scissors and spoken words. In this piece I want to show the pressure which all women in my country feel, especially female singers. The main melodic theme is based on the "Sozo Godaz" Gushe in Isfehan Avaz (one of Persian modes). Pianist is going to have a scissors in her right hand and that scissors will interrupt her during playing. I am going to make an atmosphere of challenge between speaking and interrupting (censorship) and it will be done by a scissors. Also, in some part pianist will say "Speak" in Farsi "harf bezan" in different dynamic and mood. In some point the rhythm of scissoring in her right hand is the same with left hand which makes a conversation between them. This is my second piece based on this subject. The first one called "Give me my voice back" was written for the voice, Santoor and Saxophone.
Piece: Remnant Strands
Composer: Nina Barzegar
Country: Iran
Instrumentation: Piano and Tape
More About the Piece: Through recent years, what has occupied my mind the most in my artistic life is the issue of 'identity'. Unfortunately, in my country music is not supported by the government, and this has caused the identity and roots of Iranian classical music to disappear gradually. The raised generation in the pre-government era is going extinct and I feel we are losing valuable treasures which cannot be gained any more. In this piece, I tried to create this feeling of passing away and disappearing in a sound taken from Iranian folk music, on which the piece for piano is performed, which, although inspired by Iranian music, is weak and vanishing. So I named it "Remnant Strands".
Piece: TAFA'ILL
Composer: Wajdi Abou Diab
Country: Lebanon
Instrumentation: Prepared Piano and Tape
More About the Piece: This is a short video excerpt from the original piece (longer than 60 seconds).
"Tafa'il" is a piece for piano and tape, based on the sixteen vertical axes of Arabic poetry, translating their subdivisions into music, and deeply examining the rhythm of weighted Arabic poetry, and the division of poetic verses, and linking the classical Arabic language with classical Arabic music by modeling poetry subdivisions in Arabic musical phrase, and introduces the piano as a contemporary Arabic instrument. In the recorded Tape, we can listen to poetic, melodic, or spoken phrases, as well as recordings of Arabic instruments and electronics, in an attempt to adapt the contemporary music to serve Arabic musical ideas.
Piece: Khaz Memories
Composer: Joseph Bohigian
Country: United Stares (Armenian Diaspora)
Instrumentation: Solo Piano (and voice)
More About the Piece: Khaz Memories is a reinterpretation of the traditional Armenian system of musical called Khan. Much of the knowledge of the Khaz system has been lost. It was originally used throughout the medieval period as an aid to an oral musical tradition but by the 19th century fell out of use. In this piece, the Khaz neumes take on a new life in a graphic score, part of a series of works exploring this idea, their forms being reinterpreted gesturally by the performer. This reclamation of a lost notation relates to the contemporary situations of the Armenian people's struggle to maintain identity in dispersion and the destruction of our cultural heritage.
Piece: Coma
Composer: Sonia Gorji
Country: Iran
Instrumentation: Prepared Piano and Voice
Piece: Clock Strikes 12
Composer: Ruth Alon
Country: Israel
Instrumentation: Prepared Piano
More About the Piece: This piece conveys a certain sense of time. The bells of the clock count the hour, whilst in between sound affairs occur. In this world of sound, the listener senses and feels a certain concept of time.
Piece: Lotf Nemikham
Composer: Kian Ravaei
Country: United States (Iranian Diaspora)
Instrumentation: Speaking Pianist and Tape
More About the Piece: Taarof is a notoriously difficult-to-explain yet deeply ingrained Iranian custom. It is basically a set of unspoken rules about good manners, deference, and managing social relations. One of these rules is that when a host offers something to a guest, the guest is obliged to refuse out of politeness. In response, the host must offer with greater insistence, and the guest should once again refuse. The host may repeat this ritual several times until the guest finally says yes. Iranian women are often expected to be models of deference and politeness, and should therefore ultimately accept when something is offered to them. There is a stigma around saying no—especially to men—that can make Iranian women liable to sexual harassment. This work aims to give voice to their noes, which are often left unsaid. The Persian phrase "lotf dârīd" literally translates to "you have kindness," and is a way of thanking someone. "Lotf nemīkhâm" means "I don't want your kindness"—that is, if your kindness is a double-edged sword.
Piece: [I/O]
Composer: Omer Barash
Country: Canada (Israeli Diaspora)
Instrumentation: Piano and Voice
Piece: A SoundGuide for a Virtual Tourist from Beyoglu to Karakoy
Composer: Özden Gülsün
Country: Turkey
Instrumentation: Piano and Fixed Media
More About the Piece: My inspiration's basis is the sounds of Turkey. The Anatolian peninsula is very rich not only in terms of music but also noise. It is the intersections of music and noise that interest me. While composing my music, I focus on this experience. I live in a fairly small city and when it comes to contemporary music, my only connection with the world is the internet. It is a very difficult situation for a composer who is still trying to find her voice. I am trying very hard to follow and be involved in the contemporary music community. So when I saw this opportunity, I was very happy. Because you provide a platform where I would like to take part and make my voice heard. Istanbul's sounds are my main starting point for this project. I will be resonating a short tour experience in Taksim. I will intertwine the sounds of Istanbul's streets' music with a music in which the piano will sometimes sound like qanun and oud, supported by fixed media consisting of found sounds. I also plan passages in which piano strings are played with mallets.
Piece: I'm Listening to a Senile Man
Composer: Can Bilir
Country: Turkey
Instrumentation: Piano, Electronics and Poem
More About the Piece: This is a short video excerpt from the original piece (longer than 60 seconds).
Piece: The Prison of Night
Composer: Shayaan Sepehrmand
Country: Iran
Instrumentation: Piano, Voice and Woodblock Solo