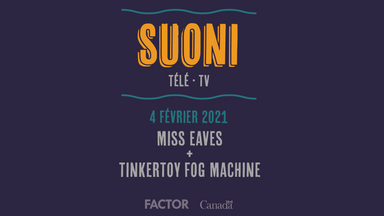 TÉLÉ SUONI TV #11: Miss Eaves + Tinkertoy Fog Machine
Thursday, February 4th, 2021
Show 20:00
Présenté dans le cadre de TOGETHER WE RISE, une série du Suoni Per Il Popolo, avec le soutien de FACTOR (The Foundation Assisting Canadian Talent On Recordings):
TÉLÉ SUONI TV #11
Miss Eaves:
https://misseaves.bandcamp.com/
Tinkertoy Fog Machine:
https://tinkertoyfogmachine.bandcamp.com/releases
En direct: https://suoniperilpopolo.org/live
www.suoniperilpopolo.org
Instagram: @suoniperilpopolo
Twitter: @SuoniPopolo
~~~~~~
Le Suoni Per Il Popolo reconnaît que le territoire sur lequel nous sommes rassemblé.e.s est le territoire traditionnel et non-cédé du peuple Kanien'keha:ka (Mohawk), un lieu qui a longtemps constitué un site de rencontre et d'échange entre plusieurs nations.
*
Suoni Per Il Popolo would like to acknowledge that the land on which we gather is the traditional and unceded territory of the kanien'keha:ka (Mohawk), a place which has long served as a site of meeting and exchange amongst nations.
~~~~~~
Ce projet a été rendu possible en partie grâce à FACTOR, le gouvernement du Canada, et les radiodiffuseurs privés du Canada.
*
This project has been made possible in part by FACTOR, the Government of Canada, and Canada's private radio broadcasters.
Artists