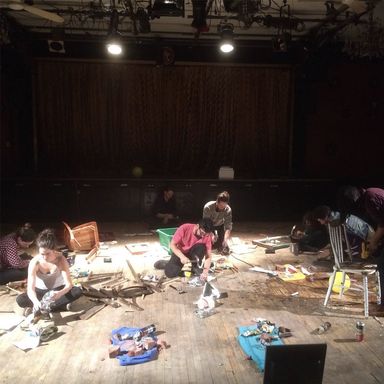 No Hay Banda - Fluxus Online
Tuesday, June 16th, 2020
Show 20:45
No Hay Banda
Fluxus Online features a compilation of various artists' imaginings of a digital approach to Fluxus. Performances, happenings, event scores and instructions are presented on a digital platform to be experienced as part of this year's online version of the Suoni Per Il Popolo Festival.  
Featured artists include:
Gayle Young & Reinhard Reitzenstein (Grimsby, ON)
Gabrielle  HB (Montreal)
Chloe Ziner (Vancouver)
Dustin Finer (Montreal)
An-Laurence Higgins (Montreal)
Ivetta Kang (Montreal)
Jacqueline van de Geer (Montreal)
Kimia Koochakzadeh-Yazdi (Vancouver)
Émilie Fortin & Patrick McMaster (Montreal)
Weronika Zalewska (Poland)
Sarah Tracy (Toronto)
Dory Haley (Vancouver)
Artists
NO HAY BANDA is a Montreal-based non-profit organization committed to the production, performance, and promotion of musical events rooted in exploratory and avant-garde practices. We organize a series of concerts throughout the year in Montreal, aiming to provide a space for artists working on the fringes of established genres to realize projects that would not take place otherwise. NO HAY BANDA was founded in 2016 by three Montreal musicians: Daniel Áñez, Noam Bierstone, and Geneviève Liboiron.
+ info