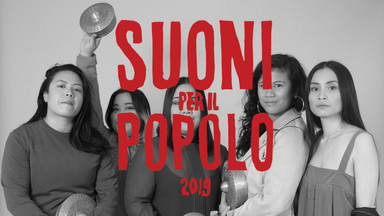 Pantayo, Rainbownite, Beauty Tool
Saturday, June 8th, 2019
Doors 20:30 / Show 21:00
$10 / $13
présente Suoni Per Il Popolo
Artists
Toronto-based all-women Filipina-Canadian ensemble Pantayo play kulintang, a pulsing, tonally charged instrumental form of music from Southeast Asia involving knobbed gong-chimes arranged horizontally according to melodic relationships. Their own incorporation of synths, keyboards, drums and bass into the traditional form has been described as lo-fi gong pop punk, gentle punk, and celestial R&B. Clearly a performance not to be missed!
+ info
Alexandra Laird is now Rainbownite. After writing and performing synth pop as 'Lost Creatures' for the past 3 years, her new direction is heavily influenced by her love of dance music, particularly 90s house and garage.
+ info
Beauty Tool is the project of Montreal producer Kyle Grimsrud-Manz. He describes his flavour of electronic music as inhabiting the uncanny valley. Partaking in both minimalism and maximalism, both pleasing harmony and dump-truck-esque noise, the music offers a strikingly intimate look into his psyche. While 2018 saw several cryptic and abstract Beauty Tool releases exploring themes of depression and internet addiction, these experimental sensibilities are slowly being juxtaposed onto a more traditional songwriting pallet.
+ info