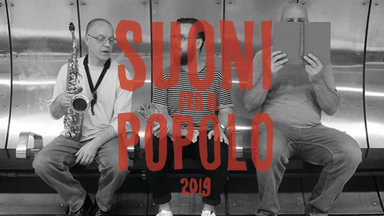 Caloia/Charuest/Fousek, Pedro Melo Alves - O, Karen Ng
Thursday, June 6th, 2019
Doors 20:30 / Show 21:00
$8 / $10
présente Suoni Per Il Popolo
Artists
Caloia/Charuest/Fousek is a trio made up of Nicolas Caloia (double bass), Yves Charuest (alto saxophone) and Karl Fousek (analog synthesizer). Formed in 2016, this ensemble combines the sonic resources of both acoustic instruments and analog synthesis to explore new potentials in audio texture and improvised collective interaction. The trio released its debut album on Polish label Mondoj in 2018 and a new album on Texas-based label Astral Spirits in 2019.
+ info
Born in 1991, in Porto, Portugal, with the beginning of his musical life marked by the drums and rock/fusion projects, Pedro Melo Alves starts studying at Escola Valentim de Carvalho in 2000. Enrolls at the Jazz Drums superior course in 2011 at the Porto Superior School of Music (ESMAE), having lessons with Michael Lauren and Carlos Azevedo, and leaves the course in 2013 to study classical and jazz piano with Abe Rabade and Daniel Bernardes. The participation on several workshops in Portugal, Spain and Italy led him to meet and study with some of the contemporary jazz scene figures, such as Ralph Alessi, Danilo Perez and John Escreet. Enters in 2015 on the Musical Composition superior course at the Lisbon Superior School of Music (ESML), where he studied with Sérgio Azevedo, José Luís Ferreira and António Pinho Vargas. Pedro won the Bernardo Sassetti Composition Award in 2016 and was distinguished as the National Musician of the Year in 2017 (jazz.pt), among other awards on the jazz combo category (Prémio Jovens Músicos, 2013) and solo drums (Yamaha PMS 2007, Madrid).
+ info
Toronto based improviser Karen Ng can be found in many different projects across a wide range of music. She has appeared on stage with Andy Shauf, L CON, Happiness Project, Do Make Say Think, Fresh Snow, Bry Webb, Woodshed Orchestra and Broken Social Scene. Currently Karen is involved in several improvising ensembles in the city including Josh Cole Quintet, Craig Dunsmuir and the Dun Dun Band, DELVE, In Between, Rob Clutton Trio as well as various ad hoc duos, trio and quartets.
+ info